Discover more from Communities of the future
Its an exploration on how society and the future of work are changing to usher in new forms of utopian ideal.
What is Once
An overview of the concept and why it's important.
So here's a good point to do an an intro seeing as this is the first thing i'm publishing on substack.

I'm Alex Kennedy and I've been working on a new model of collective which I believe can affect major leverage points in society for cultural and narrative change.
It combines film and media, co-living, blockchain, communal transformation and systems design.

In short, ONCE is a new model of community network that curates generous, purpose driven people to form extended, long term relationships.
Collaborating towards a shared lifestyle, born from common values and social sovereignty.

Growing an environment to bootstrap a new operating system of culture.

There is far more to this than can be fit in an email or a paragraph so I hope you'll hold the unknown of this while I do my best to share it with you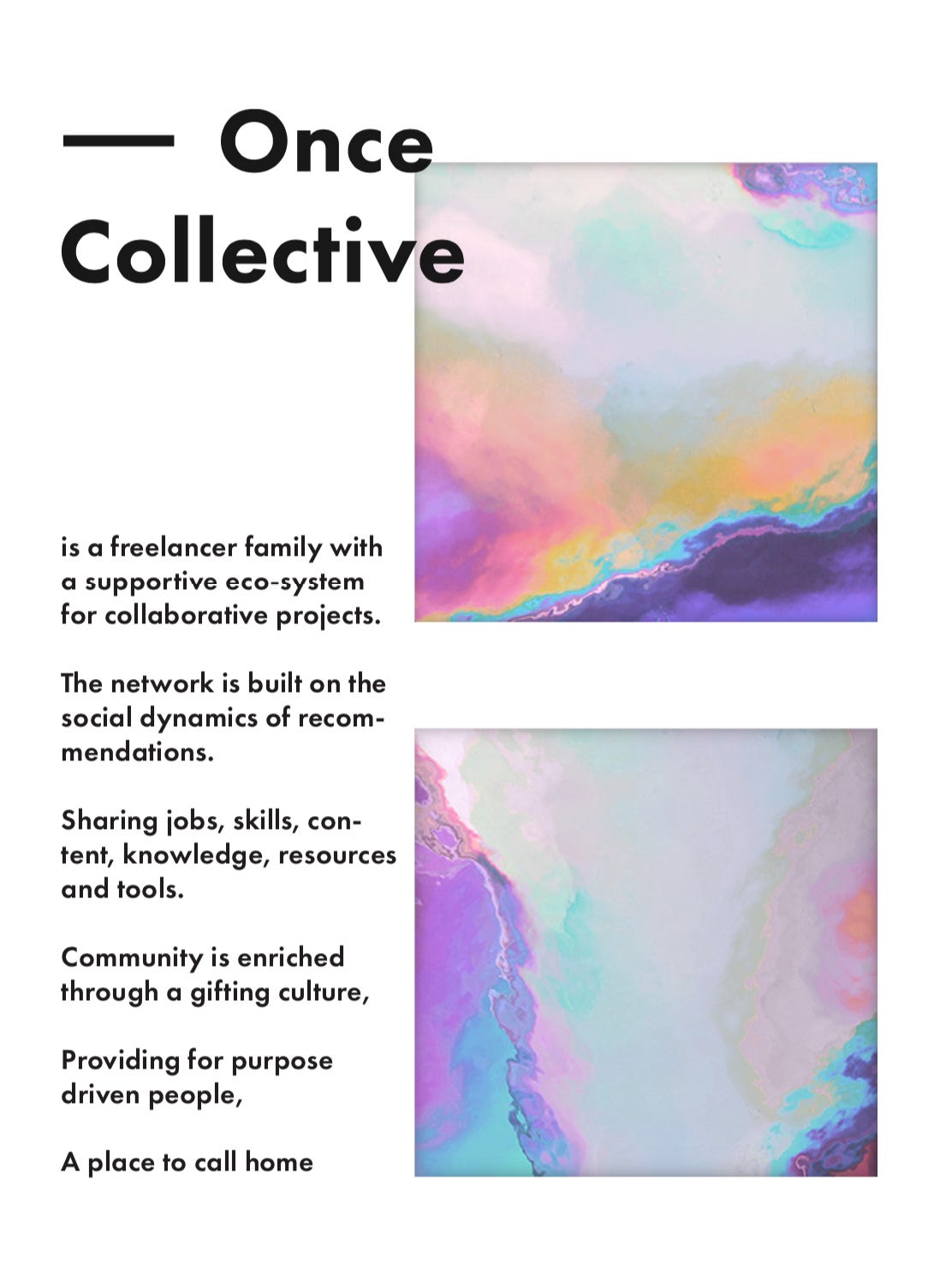 ONCE brings freedom, community and purpose to a network of trusted freelancers.
Vouching reputation forms trust networks, upon which extended partnerships can be grown, enabling more effective collaboration through the latest advances in tech. 
Members build social capital through mutual support so they can leverage their skills with their community over the long term. 

Commercially it acts as an agency to curate teams around projects while building the ideal balance of lifestyle and purpose for its members. 

Currently the collective works with clients on concept films and brand strategy for audiences. Visualising potential ideas, products or brands in a more holistic and authentic way through inter-woven video content across platforms.

As the membership of Once grows, these services will expand into adjacent fields. But by presenting high end concepts commercially, innovation and experience in this area can be applied toward achieving the end goal of Once.
a multi-disciplinary, semi-remote, co-living campus.
This place would act as a catalyst environment for creativity, innovation and insight while exploring dynamics of social and cultural change. A place where the rebels, agents of change and big thinkers of our time go to find each-other and be seen by the world.
The 20s are gearing up to the most transformative period our civilisation has ever encountered, inevitably driven by the need for its own continuation.

Once lives to give space and capacity for what's necessary to emerge.
It's a pathway for redesigning the world we all want to believe is possible.
Where is it currently?
At the start of the pandemic I set up the Open Creative Alliance. A scaled down version of the collective geared towards solving crisis problems through redirecting creative talent.
Long term this larger group will experience some benefits of Once such as community rituals and practices, alongside larger scale solutions for helping-people-help-each-other. 
Very soon we'll be soft launching the ONCE community with founding members.
The website is midway through relaunch (it's looking 👌🏻) and recruitment has begun for the core team.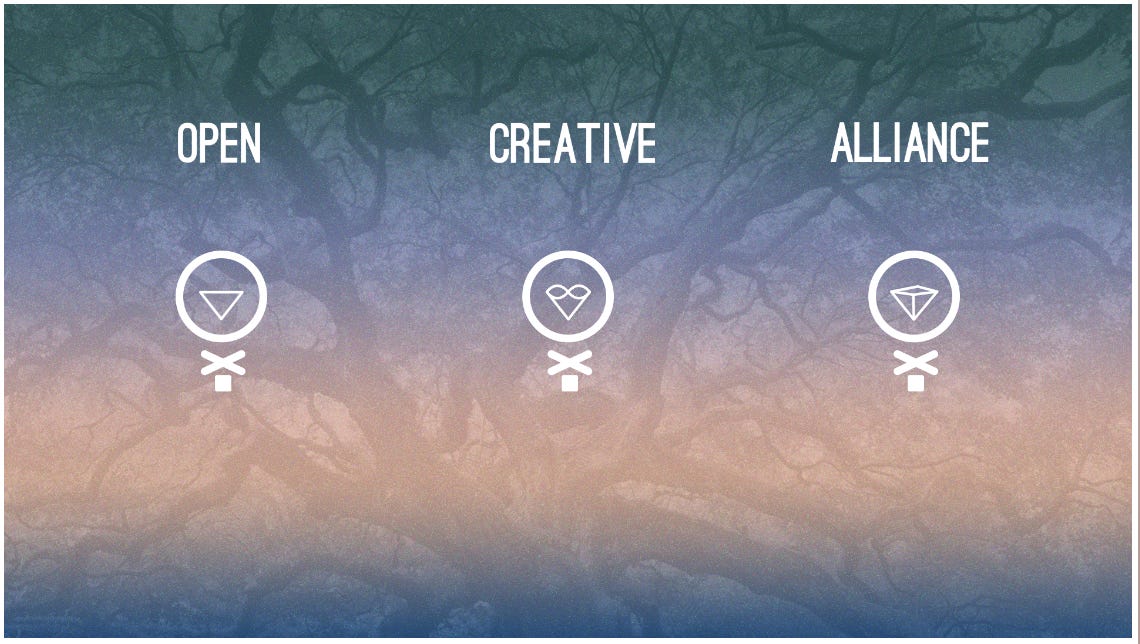 Once is looking for a team.
The next few months will be a bringing together much of what i've been preparing for the last 2 years and launching it out into the world. But I am a fallible man and this was never designed to be done alone.
I'm also well aware of the challenges faced in doing something of this scale, as well as the added difficulty in combining these seemingly unrelated elements. Let alone the intention to tackle problems like cultural and system change through their use. 
But the time is ripe for this. I have a plan. And I will remain persistent.

If you know of anyone that's looking to do something similar to any of the above or generally wants a more difficult life of solving big audacious problems then please put us in touch.

They will need to be highly competent in their field, honest, conscious of their ego and intensely curious.
Key roles are in:
Marketing
Community
Business and Operations.
learn more about the roles on this One Pager.

How can I get involved?
You can also join the OCA group or register for roles in the collective from the button below. For now the founding community is invite only but opportunities will be shared to this network as things progress. 

We may be launching a coliving event in November so Sign up here if you're interested to be involved in that. You'd need to be able to work remotely for 2-3 weeks on a semi-flexible schedule.

Glad to see you reached the bottom of this post. It's for people like you that I do this for.
And if you'd like to be a direct subscriber of the Once mailing list you can sign up with the link below or read the newsletter in its original form.

Great to

Read the full newsletter or subscribe.
https://mailchi.mp/767837c3166c/once-is-born-for-the-twenties